The German Exchange: A Once-in-a-Lifetime Experience
Hang on for a minute...we're trying to find some more stories you might like.
Every other year, the students of the German classes participate in the German exchange program. Park Ridge High School has been partnered with the high school in Pfullingen, south west Germany, since 1987. The German town has a very similar socioeconomic status as Park Ridge does, making it seem like "the Park Ridge of Germany" as explained by Frau Erdmann. She further expressed that this similarity makes the exchange feel more comfortable for the kids since the environment is not too different from what the students are used to. About an average of 10-20 Germans of the ages 14-16 years participate in the exchange and they stay for three weeks. While in America, they visit Washington D.C., Philadelphia, and New York City. Additionally, one host family throws a Halloween party, everyone goes to the homecoming football game, and they learn about the American culture and way of life.
Twelve Germans (four boys, eight girls) came from October 11 to November 1 this year. While here, they came to the high school for a few days and made their own schedule to get a feel for what American schooling is like. The Germans were and are always very excited to come to America on the exchange trip.
To gain more insight on the exchange, I interviewed Alexa Ferranti, a PRHS graduate who participated in the exchange twice. Alexa was involved in the program in 10th and 12th grade. When she partook in the exchange in 10th grade the program had been slightly different. Park Ridge High School students used to take a trip to Germany after the Germans visited. However, due to recent foreign issues, Park Ridge students can no longer go to Germany. Nevertheless, this fault did not hinder the exchange experience for the students. When Alexa went to Germany she stayed with her exchange partner, Nina Urban. Alexa stated that it was "very different because their school is more regional and it is in the mountains so they had to commute 25 minutes by bus". She also recalled that their town had a "strong sense of community", something previously brought up by Frau Erdmann when she compared Pfullingen to Park Ridge.
As a senior, Alexa hosted Clara Koch. She remembers the first few days of Clara's arrival to be somewhat awkward because they were still getting used to each other. However, she said that they both bonded quickly when they "exchanged music and TV shows with each other" and they "hung out in bigger groups to break the tension". After that, Alexa got along with Clara very well and gained an amazing experience through the exchange. Today, Alexa is still friendly with Clara, but they do not keep in touch that often. However, Alexa talks to Nina very frequently and they visit each other every year. Alexa stated that "Nina is coming to Park Ridge this year for Christmas and New Year's". Additionally, they have gone to Spain and Greece together in the past. Alexa has formed a permanent bond with one of her German exchange partners, an experience that is truly rare and can lead to some once-in-a-lifetime friendships.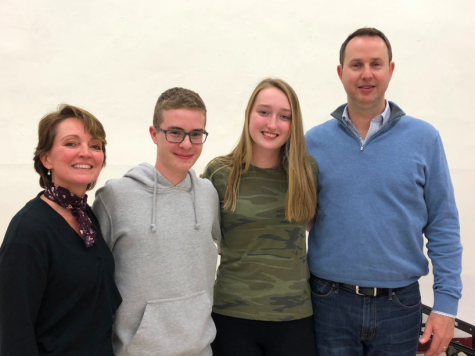 For this year's exchange, the Germans recently left on November 1st. Many PRHS students created strong friendships with the several exchange students that stayed in Park Ridge. One of these students was Isabella Wise, a senior at PRHS. This was her second time participating in the German Exchange so she was familiar with how the exchange played out and was comfortable hosting a student in her home. This year, she was partnered with 15-year-old Fabian Juny. She stated that "it was slightly awkward at the very beginning of the exchange considering he is a guy so it was harder for [her] to connect with him". However, after hanging out with him and all of the other German students more, she got very close to him. To bond, four of the Germans went to Izzy's house after school since their hosts had internship. This experience made it easier to learn more about Fabian while also getting closer with the other German students. Additionally, Isabella took the German students trick-or-treating during Halloween so that they could learn more about how we celebrate the holiday in America. After a short time of bonding with Fabian, Izzy stated that he easily fit in with her family and friends and she "feel[s] like Fabian is now a part of [her] family". Seeing as the exchange trip ended a few weeks ago, Fabian and Izzy do not communicate as much as they used to. However, they still continue to keep in touch with each other constantly through WhatsApp and Snapchat, updating each other on their lives. This unique connection and experience is an amazing opportunity that is hard to find and has changed the lives of many students, like Alexa, Clara, Izzy, and Fabian.