Athlete of the Month: Sam Green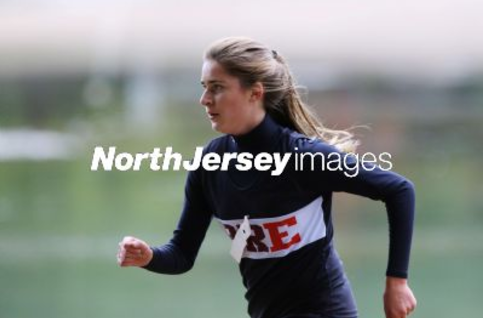 Hang on for a minute...we're trying to find some more stories you might like.
Samantha Green is one of the best runners to have ever come through Park Ridge High School. Specializing in long distance running, she excels in the mile, 2-mile, and 5k races. She is also the school record holder in the mile and 2-mile, and is at the top of the all-time top-10 list for Park Ridge at all 3 cross country courses: Darlington, Garret Mountain, and Holmdel. Green has been a 3-year varsity cross-country runner and a vital addition to the team ever since her freshman year. She has been selected first-team all-league for the past 2 years, as well as assisted the team in 2 back-to-back league titles in 2015 and 2016. So far, she has come in first in every dual meet, and has had big finishes placing 4th at the Season Opener Invitational and 7th at the Bernie MaGee Class Meet, both races being competitions against large group schools.
Sam attributes much of her success this season to all her coaches, specifically Mr. Farrell for dedicating all of his time so she can perform at her best. He goes out of his way to make sure she is in the best position she can possibly be in for every race. This year, Sam says her biggest accomplishment "has definitely been being able to stay healthy and compete. I struggled a lot last year through all three of my seasons with injury, and just being able to run is all I can ask." On the other hand, her biggest challenge has been keeping the right mindset. As motivated as she is, the workouts and races are grueling and a take a huge toll mentally and physically on anyone who competes. She feels being able to stay focused and positive is one of the hardest things to do, but to the rest of us she makes it look easy. The easiest thing for her is being apart of what she likes most about cross-country: the team. She says she wouldn't be able to make it through a practice or a meet without everyone's laughs and constant encouragement. She hopes this season that she can defend her title in the league, and that she can make some noise moving onto the county and state races. To follow more of the team and Sam's success throughout this cross-country season, click on the links below to view all of the results.
Read Further:
(Sam Green leads with top time of all six NJIC races at Garret Mountain) https://njersy.co/2yh8DMn
(Interview with Sam after her finish at the Bernie MaGee Class Meet) http://www.northjersey.com/story/sports/high-school/cross-country/2017/09/23/late-start-doesnt-slow-peralta-down/696744001/