Outdoors Club Hikes Harriman State Park; Prepares for Second Hike This Weekend!
Hang on for a minute...we're trying to find some more stories you might like.
"Fill your life with experiences, not things. Have stories to tell, not stuff to show"–anonymous. Going on hikes and connecting with the outdoors creates awesome memories and experiences. Mrs. Haake and Ms. Centrione led an Outdoor Club hike in Harriman State Park on Saturday, November 4th. Three students attended – seniors Ali Ciarletta and Katelyn Vecchione, and sophomore Bobby Ciarletta. Every month, the Outdoor club hikes in new and interesting places. Waking up early on a Saturday takes effort, but it's definitely worth it.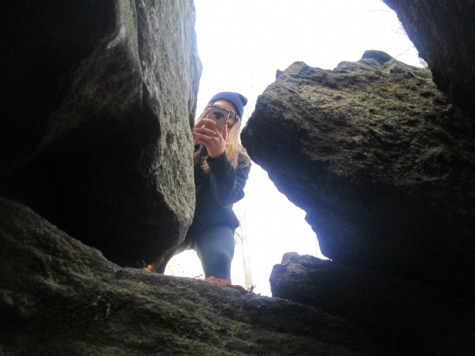 The adventure was a workout, but was also quite relaxing. The hikers trekked into a valley overlooked by enormous rock formations, hundreds of feet above them. The first overlook was even more surreal because we stood on a cliff's edge looking down at the world. The hikers were amazed by such a sight above the treetops, which were brilliant hues of red, gold and fiery orange. Stopping to appreciate something like that can make one feel like such a tiny part of the universe. Bobby Ciarletta says "While walking along the trails the nature makes you speak so honestly about yourself. It's so refreshing."
The next hike will be Saturday, December 9 in Wawayanda state park. Don't miss out! If you have not already joined the Outdoor Club schoology page, ask Mrs. Haake or Ms. Centrione for the code. The page has a calendar that shows when and where all the hikes are scheduled. Print out the permission slip, hand it in, and grab a friend- then you are ready to go!