Girls Basketball off to a Great Start this Season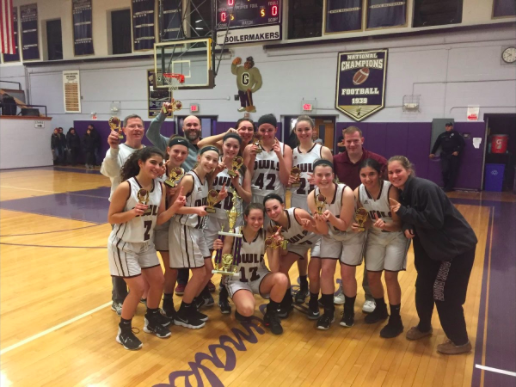 Dana DiBella, Contributer
January 26, 2018
With only 12 players, The Park Ridge Girls Basketball team has come out to a strong start to begin the 2017/2018 season. The Lady Owls kicked off the season with a 34-32 win over Midland Park, beating them for the first time in several years. To date, the team has an overall record of 8-3, with wins over Waldwick, METS Charter, Bogota, Palisades Park, and Hawthorne Christian. "We have been very successful so far this season" says sophomore, Kira Mitchell. "I think we have a chance to make the playoffs, if we can stay focused and healthy. "
The Owls have three loses to Emerson, Lyndhurst, and Cresskill and are currently fourth in the league following Midland Park. Over the holiday break, the Owls competed in the Garfield Holiday Tournament where they defeated the host 50-20 and then edged Fort Lee 33-31 to take first place. The team also participated in the Fair Lawn Breast Cancer Classic Tournament where funds were raised and donated towards the cause. Unfortunately, the Lady Owls suffered a first round loss to Lyndhurst with a score of 51-42 and were eliminated.
Kira Mitchell explains, "although we are low in numbers and are a young group, we have played and beat some really good teams already. I'm excited to see what we can accomplish during the remainder of the season."
The Park Ridge Girls Basketball team is looking good this season and has a successful future ahead of them.