Matty Ice Makes Homecoming History: NFL Presents Matt Gray With Super Bowl Tickets
Homecoming football games at Park Ridge High School are just as highly anticipated as any other annual holiday; especially for people who enjoy the sport. With the presence of returning graduates, a full "rowdie" section, and a guaranteed thrilling game, what's not to enjoy? Undoubtedly, the homecoming games at Doc Lewis field are always impactful and momentous.
The 2016 homecoming game occurred on October 14th and it held an emotional halftime show for the Park Ridge community and everyone else in attendance. With assistance from the Wood-Ridge football team, Matt "Matty Ice" Gray ran the ball into the end zone for the most moving touchdown in the history of PRHS football during his senior year. As the cowbells and the cheers of the fans blared in the background, Gray was lifted upon the shoulders of his teammates to conclude an iconic moment. It gathered a plethora of media attention from news outlets, such as ABC Eyewitness News, who published articles explaining the historical event for the people not in attendance. However, whether someone watched the inspiring moment in person or read about it online, they can recognize how Gray's supportive spirit unites the team and how his illuminative presence encourages them to work harder.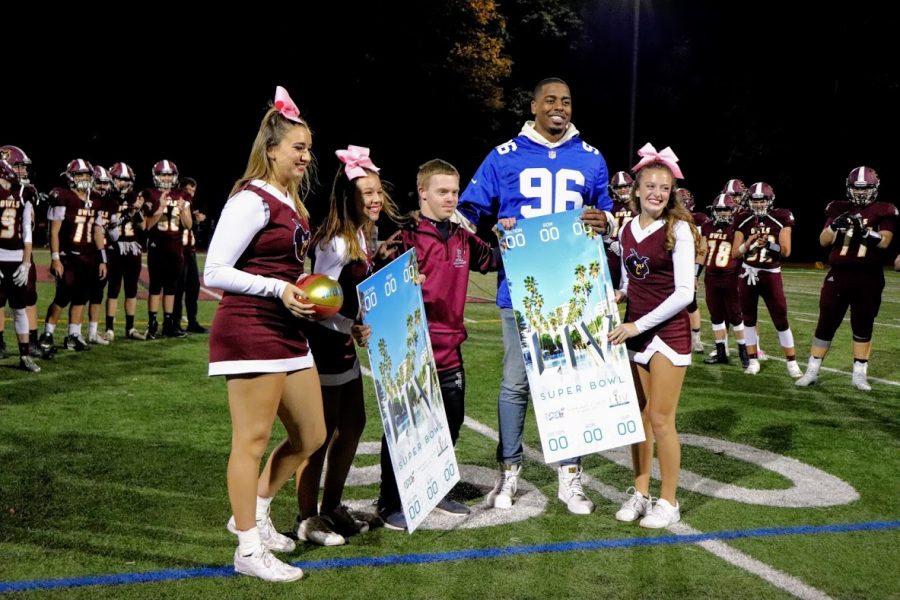 Fast forward a few years later, the 2019 homecoming game was approaching and the students and staff were informed by Athletic Director Chris Brown that the half time show was going to be extremely special. Theories flew around the school about who or what it could be: Brian Cushing, the combination of Emerson and Park Ridge football, or the introduction of a new Hootie. Nonetheless, the very few people who knew would not budge and say, "You just have to be there to see."
October 11. The bright lights were ferociously glaring upon on the green turf as halftime approached. Park Ridge was already beating Emerson and the crowd wondered how the game could get any better. But then, New York Giants linebacker, Kareem Martin, walked to the 50-yard line while sporting his number, 96, on his back. Matty Ice, now a volunteer coach for the team, stood surrounded by the loving football, cheerleading, and coaching squads as the fans excitedly looked on; hearts were beating quickly at the anticipation of what this renowned NFL athlete would say.
"
It's great how the community always goes out of its way to do things for Matty Ice…everyone loves him.
— Alicia Healy
Junior Alicia Healey was one of the few cheerleaders who helped present the once in a lifetime award alongside Martin. I interviewed her to ask about the moments and feelings she experienced leading up to the presentation. "Right before half time, my cheer coach [Danielle Schwartz] told me, Kat [Tudisco], and Annalise [Acevedo] what was going to happen. She told us to come over to get a football and the tickets and we flipped out in excitement." With a big smile, she continued, "It was just really heartwarming…it's great how the community always goes out of its way to do things for Matty Ice…everyone loves him." Healy was honored and overjoyed to be involved in something so significant. With only a few sentences spoken by Martin, Gray received some of the best news a football fan could get: he would be attending Super Bowl 54 in Miami, Florida.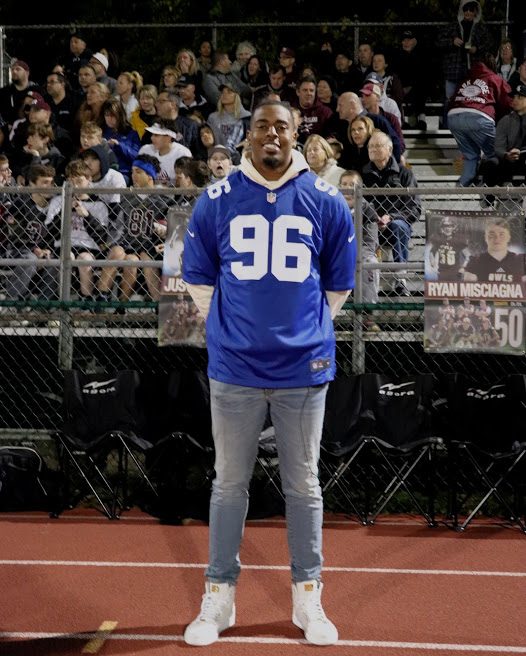 I reached out to Athletic Director Mr. Brown and asked him how this amazing moment came to be. He said, "A small committee of myself, cheer coach – Danielle Schwartz and former parent, Jamie Lewis, sent an application to the NFL. They were looking to give tickets to deserving people to attend the Super Bowl. These people should have been motivational, inspirational, serviceable to youth, passionate, [and above all,] love football. We took the route of inspirational with Matt."
"
There are so few surprises in life – we wanted this to be a BIG one. 
— Chris Brown, Athletic Director
As for keeping it under wraps, Brown mentioned how the committee sent the application over a month ago and heard back from the NFL on October 4th. With such a big announcement, it was important to keep it a secret in order to evoke an even greater response during the ceremony. Brown added, "Only a few school administrators, coaches, and support staff were aware. There are so few surprises in life – we wanted this to be a BIG one." 
As if 2016's halftime was not tear-jerking enough, this one elicited an even more overwhelming uproar in support of Matty Ice, the heart of the community. With large media outlets publishing articles, students sharing personal videos, and NFL's tweet racking up almost 100,000 views, people from all over the country can appreciate Gray's positive attitude not only toward the football program but to the bonds he forms within the community; it is no surprise he became the recipient of such a remarkable prize.
Leave a Comment