An Interview with Kyle Halton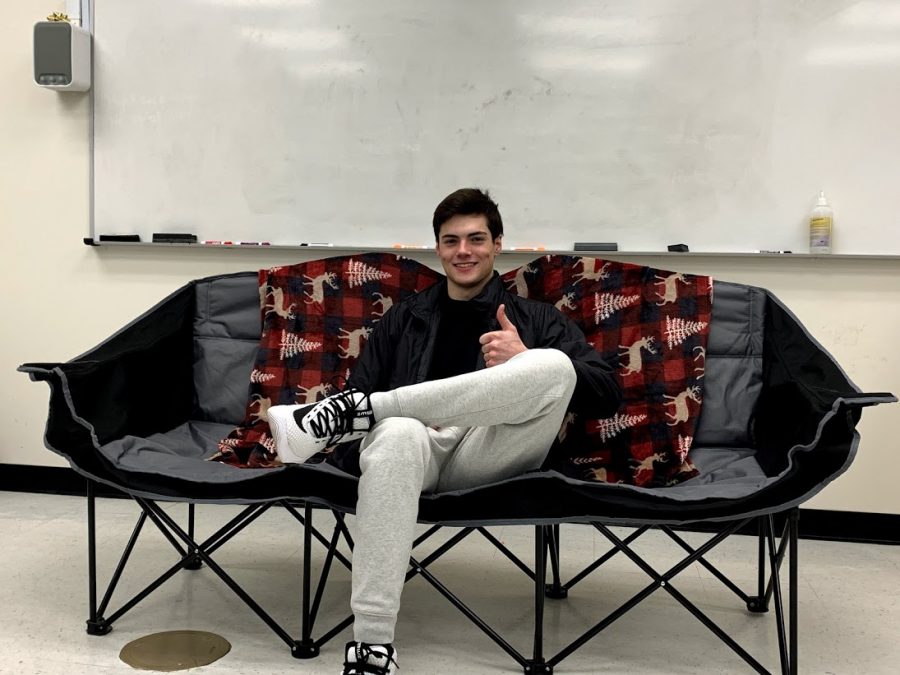 Everyone in Park Ridge High School knows Kyle's Couch, but not many people know the process behind making the videos. Kyle's Couch is a segment on Owlwitness News, the morning video announcement series that is broadcasted most Fridays and features senior, Kyle Halton, interviewing interesting personalities in the school on his transportable couch. At this point, Kyle has featured four guests on the couch. In order to understand what goes into making these videos and learn more about Kyle's experience, we asked Kyle a series of questions. All Kyle's Couch episodes can be found on the Owlwitness News YouTube Channel, and Kyle recently created a Twitter account dedicated to the Kyle's Couch segment.
What gave you the idea of having the Kyle's Couch segment?
In previous years there was an idea to take the senior lounge couch and bring it to people in offices to sort of interview. It never ended up happening so I tried to see if I could do the senior couch. We got a new one so I thought 'what would happen if we just got a portable one?' The school bought it and know I have taken up that idea and made it into my own thing.
Were there any other segments that you were considering doing for Owlwitness News instead of the couch?
In the beginning of the year we were brainstorming and that was the first project that I wanted to do. There were other ideas that I had for something musical, something similar to Hot Ones on YouTube, where they interview different people while eating wings. Those are still possibilities but for right now it's just Kyle's Couch, but maybe I can get a mini-concert in there at some point.
How long does it usually take to edit the segments?
After filming it's kind of a daunting task to sift through 20 minutes of audio. The beginning is slow but I usually have about two weeks between filming and when the video is released. I'd say it takes around six to seven hours in total, including class time, to do a rough edit and see what kinds of questions I want to have in there and the order of them. I try to keep it continuous but with everything like the intro and all the logos and stuff that I have it takes about seven hours.
What have you learned through your experience on Kyle's Couch?
Really just how to use iMovie and stuff like that. Even though it's not a super professional program and not the most ideal, learning how to edit videos in a way to make them look effective. The videos we see on YouTube, or even just movies in general, those people have been doing this for a long time. To see what they have to do, to see how much work goes into it. It's nice to have this perspective of the process.
What's your favorite question that you have asked someone?
My favorite question would probably be when I asked Mrs. Chestnutt what her favorite color was. I don't think she was aware of that question, I don't really remember, but she is very passionate about pink and I was not expecting her reaction at all.
Owlwitness News YouTube Channel
Kyle's Couch Playlist: https://www.youtube.com/playlist?list=PLiKisDRq-G6byofd6lsGilS-7QojXwVqH
Kyle's Couch Twitter: https://twitter.com/KylesCouch?s=20