BESTOF2020: Current Chief Editor Interviews Past Chief Editors: Colleen Joyce
Throughout a student's high school career, they usually immerse themselves in multiple extracurriculars. While a huge time commitment, extracurriculars have numerous benefits such as making friends with similar hobbies or plainly, trying something new. Some students may join to make their application for college look detailed while others will join to pursue a hobby which they truly enjoy. Colleen Joyce, graduate of the class of 2018, involved herself with multiple clubs throughout her time at Park Ridge High School. Among others, she was an anchor on Owlwitness News, the editor-in-chief of Yearbook Club, and the editor-in-chief for the NightWatch Newspaper.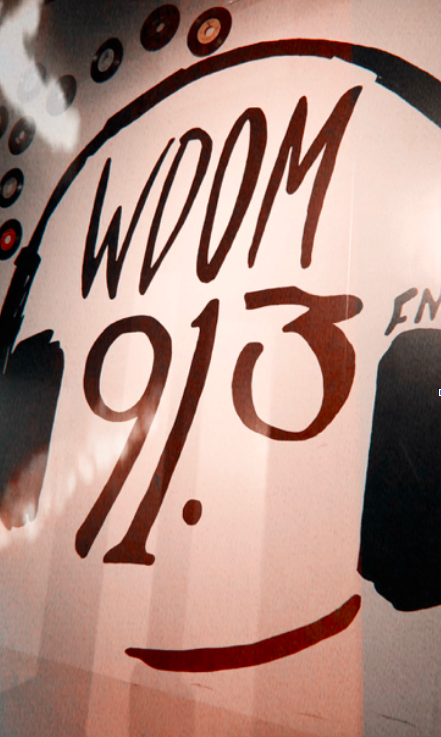 This year, Joyce is a sophomore at Providence College and is involved with multiple clubs. Ironically, while she spends most of her time with media-oriented ones, it was never her intention to join them in the first place. Primarily, she aimed to join clubs which concentrate on her political science major. Nonetheless, she caved to the convincing encouragement of her now roommate, Christina Corbisiero. Joyce says, "I found myself joining just about every single media-based club on campus by the first semester of my freshman year." After settling into clubs that fit her hobbies, Joyce found that the two most important media-based clubs for her were Providence College TV (PCTV) and WDOM radio.
Joyce was hesitant to join PCTV; somehow, she did not think any program would create as many amazing memories as OWN did for her a year prior. However, it surpassed her expectations. She confesses, "It took joining PCTV to realize how much I missed video production, and am so glad I have an outlet for that here." However, in terms of production and staff, there are multiple differences with OWN and PCTV. OWN has one episode full of news, entertainment, and other segments while PCTV has separate sections for each stage of production. They have large groups for scriptwriting, editing, on-camera, instead of one small group to do it all. In terms of what she does, Joyce says, "Currently, I prefer to work on the on-camera team, all thanks to my experience with OWN during my senior year. I do hope to participate in some script writing in the future, though!" Undoubtedly, Joyce formed friendships with "the most incredible people through this club" such as her best friends, roommates, and more. Heartwarmingly, she states, "I will be forever grateful for the club, as I would not be the person I am without it."
"
I will be forever grateful for the club, as I would not be the person I am without it."
— Colleen Joyce, '18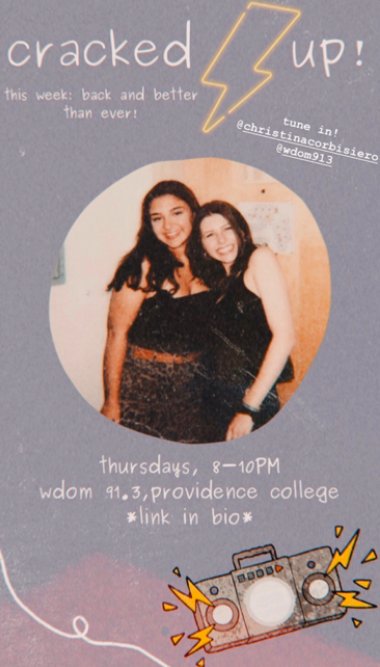 In a similar fashion, Corbisiero convinced Joyce to do a radio show with her on WDOM. Every Thursday from 8-10pm, "Cracked Up", is broadcasted live for the students of Providence College if they decide to tune in. While NightWatch Newspaper provides podcasts for students to listen to, "Cracked Up" combines the same idea of interesting conversation but also with great music. Behind the scenes, Joyce and Corbisiero work together to construct a queue of music, how it is displayed to the listeners, and when songs will be played. However, in-between songs they talk about whatever they want. Joyce mentions that for their Valentine's Day special they conversed about their favorite romantic comedies and past holiday experiences. Moreover, they love talking about their favorite musicians and the bands they hope to see live in concert in the future. Speaking about her and Corbisiero's joy in the program, Joyce says, "We always say how radio is the best part of the week, as it happens to be a fantastic stress-reliever in the lives of two busy college students." Understandably, "Cracked Up" serves as a fun escape from the never-ending tasks of a college student.
Joyce's fervent involvement in PCTV and WDOM as a political science major show how it is possible to pursue personal hobbies while focusing on central academic tracks. Film, writing, and music are three of her favorite passions and while she loves using them as creative outlets, they will not be something she pursues in its entirety. However, for students who wish to involve themselves in media and broadcasting programs as she did, Joyce advises to not be afraid to join media clubs. She says, "It can be intimidating to join clubs in which you are expected to be on-camera, on a microphone, or a generally public club.
"
If you are doing something you love, it will come naturally, so try not to worry too much!"
— Colleen Joyce, '18
Personally speaking, I was terrified before my first PCTV video and our first night on WDOM, and I completely regret ever being nervous. If you are doing something you love, it will come naturally, so try not to worry too much!" Also, if you, the reader, are not interested in something media-based, it is still a wise idea to follow her advice about involving yourself in something: passions come naturally and it is important to embrace them.
While she knew Providence College was the perfect choice for her coming into freshman year, it did not prevent her from feeling nervous. Being so outside of her comfort zone, Joyce felt as if she let that mentality affect her freshman year. However, after adapting to the scene, switching her major, taking classes that interest her, making strong friendships, and joining clubs like PCTV and WDOM which mean a great deal to her by sophomore year, Joyce knows she is in a great place and has begun to truly find herself as a person.
Current Editor-in-Chief, Julia Moran, also interviewed last year's Editor-in-Chief as well. For the previous article in the series, on Michelle Galdi, click here.
Leave a Comment